Welcome to the home page of the Trinadgey Series. Each week, a new episode is released dealing with the events taking place within the series. Warring factions, adventure and secrets best left unspoken await the reader in this collection of writings, 20 years in the making!
The series follows a modern day storyline, with just a twist of the element.
Due to the large amount of content relating to Trinadgey, many portions of the story had to be broken off into various generations of timeline.
After 2 years of formatting and structuring, Pvetraus Rising was selected as the best introduction to the series.
Pvetraus Rising includes the history of Skylar Wilson, a young man's forgotten past that would bring the destruction of mankind's future.
Adopted into a household with much older siblings, Skylar often was the loner in school and was very quiet. His father was killed in the line of duty and his mother working two jobs to maintain the household, Skylar befriended a young girl named Kali.
Kali would become not only his best friend in the younger years, she would also capture his heart as they grew older.
As time passed and Kali and Skylar grew closer, an event would take Skylar away from everyone he knew for 5 years. With no contact and no hope left, both his family and Kali presumed him dead.
Now, 5 years later, Skylar has returned to what he has known as home growing up, but no longer. A changed man now in a world completely alien to him, he must pursue an ancient prophecy for redemption of his past.
Along the way, he is met with resistance, however. His focus becomes a blur as the lines between loyalty, love and honor threaten the future of mankind.
A choice he must make.
Fight for love or fight for honor.
I hope you enjoy reading the series as much as I've enjoyed watching it grow over the past 20 years! Our episodes can be found under the Episode link up top.
See you in Pvetraus!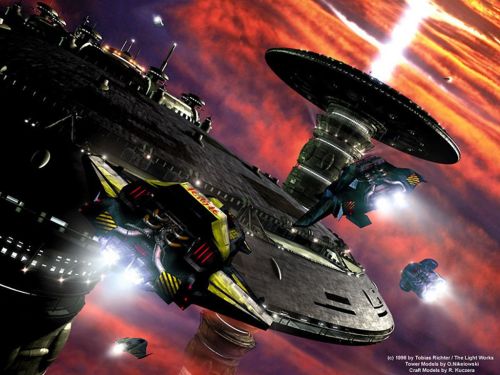 Taedars Six - Deep Salvage Starport
- The Taedars line of Starports operate on the borders of
Pvetraus (Tylastian), and Rilold (Trinadgey).
Originally designed for military use, many of these stations
have been sold to private industry as the cost to maintain
in peacetime proved too much of a burden on local economies.
Although these stations now serve a more "corporate" standard, they
are still believed rumored to be cesspools of weapons, illegal trade and
industry too profitable for the companies that own them to enforce
law.
Some in the Trinadgey Alliance believe, however, these
stations under corporate control pose a greater threat
than most neighboring star systems with a history of violence.